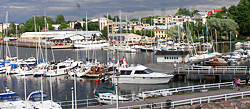 Ekenäs – est 1546
Walk along the narrow lanes in the Old Town, where the oldest buildings date from the 18th century. Admire fine wooden houses, as well as small boutiques and lovely cafés. Kungsgatan, Finland's oldest pedestrian street (since 1966), starts at the market place and continues up through the town towards a marble building designed by Finnish architect Alvar Aalto. The unique archipelago with its 1,300 islands includes the Ekenäs National Park and the amazing Jussarö island. In Ekenäs the rhythm of life and nature are in harmony with this superb environment.
Photos from Flickr »
Tourist broschure in: English Français Deutsch
A perfect location
The Karlbo is a peaceful oasis hidden in the heart of Österby, Ekenäs – a safe upmarket area on Finland's south-western coast, just sixty minutes' drive from the international airport or Helsinki.
The property is only a few minutes walk from a wide choice of Ekenäs' acclaimed restaurants and harbour together with a varied collection of boutiques. It is also just footsteps away from the sweeping Ekenäs Beach, renowned for its world-class panoramic coastline views and legendary sunsets. Easily accessible sporting amenities include a choice of golf courses, tennis, horseback riding, sailing cruises and much more. Here you will find all the 2010 events in Raasepori.
Accommodation » Gallery » Reservation »
Find your way
Finding Ekenäs (Tammisaari) and Karlbo couldn't be easier!
You can travel by car, bus, train or boat. The villa is just one turn from the road 25 next to the city's bridge. The address is:
Österbyntie 17
10620 Tammisaari
Open Google Maps » Print map »

Example distances
From Helsinki:
From Turku:
From the Helsinki airport: