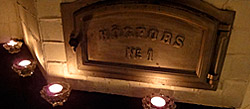 A brief history
Ekenäs was founded in 1546 by Gustavus Vasa, King of Sweden. There was a big fire in the Old town in 1821 and hence the oldest remaining houses are from the late 18th century. Karlbo itself has a very long history: its logs date back to the 17th century, but it wasn't assembled before the 18th century. The villa was moved from the old town to its current position in 1890, where it has stood happily ever after.
Now and the future
Raseborg is a new town, created on January 1st 2009 from Ekenäs and Karis towns and the district of Pojo. To read the tourist broschure, please click here ». Also please check out the local weather and events.
In Search of Lost Time
Imagine time travelling back in time to an era where your grand-grand parents lived. Add some "modern" technology such as electricity, floor heating and running water indoors and you have the perfect sweet spot for relaxation in a unique environment.
Protected by the state, loved by the rest of us
The villa is protected by the state as it represents a unique example of an 18th century building that lasts longer than a lifetime. Although the villa is totally renovated it still has its original logs, floor plan and spirit.
The big kitchen is naturally the heart of the house, followed byt two cosy smaller rooms and a big master bedroom. Here you will sleep like a baby and encounter a world that no longer exists – except here, in Karlbo.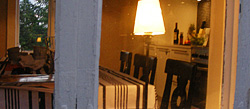 Facilities
A brief listing of the villa's features, ask us if you are missing something!
Totally renovated 3 rooms + kitchen + bathroom and new furniture
Shower & toilet with floor heating
3 working, old fireplaces for warmth and lovely atmosphere (we've just added electric heating as well!)
A fridge & freezer, a modern stove & oven + an old school functional wooden oven
Dishwasher and washing machine for clothes
Four beds but room for 6 people in total
A 24" LCD Full HD-TV & DVD with MPEG-4 support
Small stereo system with iPod support (and a microphone!) and a separate radio
A wooden/coal BBQ
Questions? Contact us! »