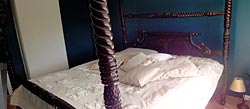 A short history
In the beginning of 1900s the work opportunities in mainland and towns began to attract the people of the archipelago. The poorest crofter cottages were deserted first. However, the outer archipelago was still inhabited until the 1950s and around 1970s the population started to grow again as the town people found the "summer paradise".
The Karlbo Country House – "Norråker" – was built in 1913 as a sturdy loghouse for one of the farme's daughters. As the swedish name implies, the house is set in the north side of the fields that embrace with a panoramic view of the nature in all its glory. The property now also consists of an additional building that consists of an old garage, a sauna and spaces for two horses (renovated in 2007, they actually fulfill the latest EU regulations – in case you would arrive by horse ;).
A West Coast Country House with a British flavor
The Karlbo Country house follows Finnish country building tradition but has a different and very distinctive interior design, which blends a rich British – somewhat romantic – tradition and style with the rural elements of Finnish country living. The Karlbo Country house offers modern facilities in a historic setting that will mix slow life with good life – in perfect balance.
Comfortable interiors for country relaxation
From the outside the country house will blend seamlessly with the fields and landscape around it. Only the large front porch might give you a hint that this villa has something special to offer. Leave your wellingtons and jacket in the outer hall to enter the light hall with a view to the larger living room and kitchen. Hidden behind the living room you will find a small and cosy hideaway with a telly plus the indoors shower which is a much appreciated luxury in the cold winter nights.
The hall also leads you to the second floor where the you will find two trusty old armchairs with a stunning view. There are two spacious, individually-decorated bedrooms upstairs to ensure a good night's sleep even if someone wants to do an early breakfast downstairs. The master bedroom invites you with its two meters wide bed followed by a large closet for storing your clothing. On the other side of the hall you will find a spacious bedroom with a double bed, an extendable bed and a television for a lazy late night movie. In total there is room for eight people to sleep comfortably, naturally there is space to host even more people with extra bed
Cross the small river with candle lights laminating your way and you will find the sauna in an external building to next to the garden's eastern part. Here you will enjoy the steamy new wooden-heated sauna and cool off in the fresh country air afterwards.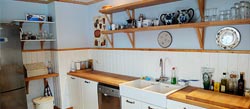 Facilities
After you have cleansed your soul and sharpened your appetite with a long walk or bicycle tour you will find the country house's modern facilities most welcome. We've included the most sought after features here, but do ask as this 135m2 baby has a lot to offer!
Totally renovated 135m2 villa in two floors (roof, floors, electricity, water etc)
A large country kitchen with a fridge & a freezer, a modern stove & oven + kitchenware. Bonus: a cocktail mixer for afternoon drinks!
Dishwasher and washing machine for clothes
Shower with floor heating & indoors WC
Two TVs, one DVD-player and a small CD/Radio hi-fi system
A external sauna building (wood heating)
A wooden/charcoal BBQ (and a rusty old gas one that need a bit tidying up)
A lawnmower, a potkukelkka, a small library and magazines…and the lovely country air, views & silence to relax all your senses.
Questions? Contact us! »